HAMASAKI, Masahiro
[
Japanese
|
English
]
Masahiro Hamasaki
Media Interaction Group,
Human Informatics and Interaction Research Institute (HIIRI),
National Institute of Advanced Industrial Science and Technology (AIST)

BIOGRAPHY
Masahiro Hamasaki is a group leader of Media Interaction Group, Information Technology Research Institute (ITRI) at the National Institute of Advanced Industrial Science and Technology (AIST), Japan. He is also an associate professor at the University of Tsukuba. He received a B.E. degree in Engineering in 2000 from Doshisha University, an M.E. degree in Engineering in 2002 from Nara Institute of Science and Technology (NAIST), and a Ph.D degree in Informatics in 2005 from Soken University. His research interests cover online community assistance, knowledge construction, social media analysis, and web intelligence.
SELECTED PUBLICATIONS
Google Scholar

DBLP

Microsoft Academic

Research Gate

ACM Digital Library


CiNii

CV
Personal and contact information
| | |
| --- | --- |
| Name: | Masahiro Hamasaki |
| Office Address: | 2-10 Bldg 3rd Floor, 1-1-1 Umezono, Tsukuba, Ibaraki 305-8568, Japan |
| Work E-Mail: | masahiro.hamasaki (at) aist.go.jp |
| Work FAX: | +81-29-861-3313 |
| Place of Birth: | Osaka, Japan |
Education and professional experience
| | |
| --- | --- |
| 2000 | B.S. (Engineering), Faculty of Engineering, Doshisha University, Japan. |
| 2002 | MSc (Engineering), Graduate School of Information Science, Nara Institute of Science and Technology (NAIST), Japan. |
| 2005 | Ph.D. (Informatics), School of Multidisciplinary Sciences, The Graduate University for Advanced Studies (SOKENDAI), Japan. |
| | |
| --- | --- |
| 2005-2007 | AIST Post-Doctral Research Scientist, Information Technology Research Institute, National Institute of Advanced Industrial Science and Technology (AIST), Japan. |
| 2007-2013 | Researcher, Information Technology Research Institute, National Institute of Advanced Industrial Science and Technology (AIST), Japan. |
| 2013-2016 | Senior Researcher, Information Technology Research Institute, National Institute of Advanced Industrial Science and Technology (AIST), Japan. |
| 2016- | Group Leader of Media Interaction Research Group, Information Technology Research Institute, National Institute of Advanced Industrial Science and Technology (AIST), Japan. |
| 2017- | Associate Professor of the Faculty of Engineering, Information and Systems, University of Tsukuba. |
Committees
JIST 2015 Program Committee
JIST 2013 Program Committee
JIST 2012 Program Committee
JIST 2012 Local Organizing Committee
RESEARCH INTERESTS
Online community is an interesting and powerful platform for communication, content sharing, and collaboration. I'm interested in "How do we enhance activities on online community?" and "How should we construct platform for online community?" My approach is that "Relationship is an important!". So, almost of all my projects are related to networks, e.g., social networks, content networks, and knowledge networks.
Social Network
Online Community
Information Sharing
Semantic Web
Web Intelligence
Web Mining
Interaction Design
Recommender System
Massively Collaborative Creation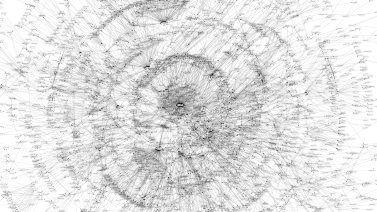 Fig. Citation network of Hatsune Miku movies on Nico Nico Douga.
The Web was created as a publishing platform, but it is increasingly becoming a two-way communication platform for people. Thanks to the ?exibility of the Web, communications of various types have emerged. As a platform for communications, the Web presents various advantages over older systems. For example, it eliminates the sense of distance because people at any place can mutually communicate. It supports massive interactive collaboration through large-scale BBS and social tagging, which is impossible in real-world communication channels. It also enables large-scale information sharing not only of texts but also of various multimedia contents such as videos. We designate activities of this type as massively collaborative creation by which a huge number of people mutually collaborate to create contents on the Web.
Massively collaborative creation on the Web has features that augment traditional collaborative creation; one is the style of participation. Vastly numerous people are involved. For that reason alone, they often do not know each other. Numerous evolved or inspired versions of a video can be created if a video explores a new idea or if it "catches on". Another difference is the digital reuse of contents. Some components of a work are reused in evolved or inspired versions. For example, an image or sound in a video can be reused in a new version of the video. Consequently, digital work can be developed among people via the Web.
Social media sites are expected to be interactive, but interactivity is not simple. We should take these points into account when designing new social media, particularly those that support creative activities. This project aims to understand such new networks and develop a system for massively collaborative creation.
"Social Networks of an Emergent Massively Collaborative Creation Community - Case Study of Hatune Miku Movie on Nico Nico Douga", SDoW2009 (2009) [SDoW2009]
"Network Analysis of Massively Collaborative Creation of Multimedia Contents - Case Study of Hatsune Miku videos on Nico Nico Douga -", uxTV2008 (2008) [ACM DL]
"Automatic Citation Visualization for Collaborative Contents Creation and Sharing Platform", CSCW2008, (2008).
"Social Creativity Supported by Sensing of Re-Creation Processes", CCASNS08 (2008). [CCASNS08]
Social Knowledge Construction
Defining structure of knowledge for representing data semantics is usually a costly and time consuming task. Ontology is one of the powerful structures of knowledge but most of them are constructed by experts of ontology engineering. This project aims to construct knowledge with collective intelligence.
"Social Infobox: collaborative knowledge construction by social property tagging", CSCW2011 (2011) [ACM DL]
"Ontology Extraction using Social Network", SWeCKa2007 (2007) [Paper]
"Experimental Results for a method to discover of human relationship based on WWW bookmarks", KES2001 (2001) [Paper]
Social Matching


Fig. Two types of Introduction.
This project aims to assistance of expanding social networks. We proposes a system to introduce users to others. Introduction is one of social matching methods based on social context. It requires consideration of social relationship among three persons: a person who wants to be introduced, a person who is a target of introduction, and an introducer. A social matching process does not simply mean that a person is to ?nd target persons but should include that she/he finds a way to introduce herself/himself to target persons. In this project, we discuss about introduction and propose an introduction system. Recently, social networking services (SNSs) have become popular. Social matching is effective way to enlarge social capital. Our working contributes knowledge to future research and systems.
"A study of an Introduction Assistance for Social Matching", journal of Japan Society for Fuzzy Theory and Intelligent Informatics (2008) [Paper] (in Japanese)
"Find better friends? - Re-configuration of personal networks by the neighborhood matchmaker method -", SWFAT (2003) [Paper]
OngaACCEL Project (2016-)
In this project, we will enhance the automatic music-understanding technologies, and establish foundational technologies that enable large-scale analysis and synthesis of diverse music content. In addition, we will develop foundational technologies that support users in three respects: content appreciation, creation, and co-creation (the act of creating more valuable content and communities by collaborating with others). Furthermore, we seek to contribute to developing the next-generation media content industry by building a service platform that utilizes these technologies, thereby enabling various services such as content appreciation support services, creation support services, and co-creation support services to be realized.
"QueryShare: Working Together to Facilitate Exploratory Multimedia Searches without Skill in Creating" ACM OpenSym (2017). [ACM DL]
"Classifying derivative works with search, text, audio and video features", ACM ICME (2017).
OngaCREST Project (2011-2016)
The purpose of this project is to develop fundamental technologies for building a similarity-aware information environment in which people are able to know similarities among vast amounts of media content. This environment will help establish a "content-symbiotic society" in which media content such as music and video can be created and used in innovative, but ethical ways. Furthermore, by developing technologies for enhancing content creation and appreciation, we aim to promote a society in which anyone can actively engage in content creation and appreciation, and a content culture that respects past content and emphasizes experiencing emotion.
"Songrium: A Music Browsing Assistance Service with Interactive Visualization and Exploration of a Web of Music", WWW (2014). [ACM DL]
"Frontiers of Music Information Research Based on Signal Processing", IEEE ICSP (2014) [PDF]
media Exprimo Project (2007-2012)
It is an interdisciplinary research project that aims to help enrich and sustain citizen media expression. The name "media exprimo" will also represent the technology systems and cultural programs we intend to produce in the near future. The overall objectives of media exprimo can be identified as follows: (1) Develop technology systems to serve as a platform for an "expression-interweaving" society and supply the necessary information design. (2) Develop cultural programs to support and sustain an "expression-interweaving" society and supply the necessary information design. (3) Design the forms and modes required for the functioning of an "expression-interweaving" society.
"Zuzie: collaborative storytelling based on multiple compositions", ICIDS (2010) [ACM DL]
"The Final Report of the media exprimo project", [JST] (in Japanese)
Event Space Information Support Project (2003-2007)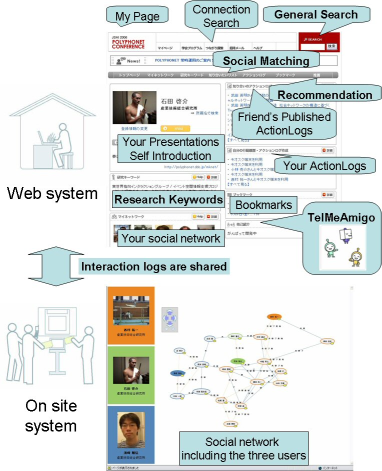 Fig. The concept of our system called Polyphonet Conferece.
This is a research project to activate community by supporting real-world-based interaction using Ubiquitous and Web Intelligence. We have targeted on event space such as expos or conventions because such space contain rich contents and many attendees. It is a good trial space for new technologies.
Demo movie of Polyphonet Conference