Speech RepairF Speech Input Interface Capable of Quick Error Correction by Using Selection Operation
by Jun OGATA and Masataka GOTO
---
Speech Repair is a novel speech input interface function in which recognition errors can be easily corrected by selecting candidates.
During the speech input, the speech-repair function successively displays not only the usual word sequence as a recognition result but also other competitive candidates that indicate alternative word hypotheses obtained in the decoding process of the speech recognizer.
Since candidates for almost all words in the recognition result are always automatically displayed on a screen, the user can correct erroneous words merely by selecting the appropriate candidate even while speaking to the recognizer.
The speech-repair function is thus efficient and easy to use: errors can be handled by simply clicking automatically displayed candidates without waiting for the end of an utterance.
---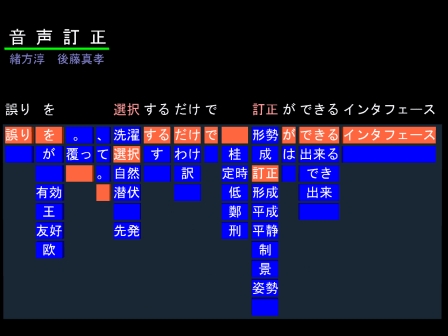 Video clips

References
J. Ogata and M. Goto,
``Speech Repair: Quick Error Correction Just by Using Selection Operation for Speech Input Interfaces''
Proc. Interspeech 2005, pp.133-136, 2005. [PDF]
---
Author: Jun OGATA
Please E-mail to: jun.ogata(at)aist.go.jp